Great thing to start the week – today I received a bunch of copies of the first print volume I've ever edited:
Burg, Thomas N. / Schmidt, Jan (Eds.): BlogTalks Reloaded. Social Software – research & cases. Norderstedt: Books on Demand. 2007.
The book compiles ten papers from the "BlogTalk reloaded" conference held in last october. It took Thomas and me quite a while to get the book done & out, and we send apologies to all authors for the delay. I will put the author's copies in the mail later this week (we have contributors from places like Brazil, US, Australia and some european countries); all other people interested in the book should have a look at the Table of contents (including links to online copies of some papers) and consider ordering it through Libri.de or at Amazon.de.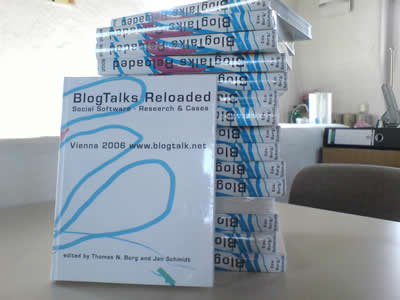 Tonight I'm going to read all of them