This site is not updated anymore. Please check my current blog or the HANS-BREDOW-INSTITUTE-Site.
English content on Bamblog
Up to now, most of my professional publications and blog entries are in German. However, there are some english texts / ressources available:
English Blog entries – RSS Feed
Description of my current research project "Practices of online-based networking"
A recent publication summarizing my approach to social software:
Schmidt, Jan: Social Software: Facilitating information-, identity- and relationship managament. In: Burg, Thomas N. / Jan Schmidt (Eds.): BlogTalks Reloaded. Social Software – Research and Cases. Vienna/Norderstedt: Books on Demand. 2007. 31-49. [pdf]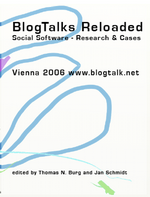 A recent volume I've co-edited: BlogTalks Reloaded. Social Software – Research & Cases
My complete CV and publication list
You can also contact me via E-Mail or via skype (janschmidtbamberg).